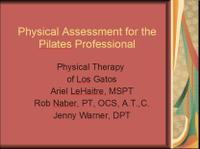 On Saturday January 20, 2007, Pilates instructors from around the Bay Area met at Los Gatos Pilates to attend the Physical Therapy of Los Gatos Train-the-Trainer seminar: "Assessment for Pilates Instructors." The purpose of the seminar was to present key physical assessment tools that Pilates instructors can use to customize exercise programs to meet the specific  needs of individual clients.
"Given the many similarities between Physical Therapy and Pilates, the move to more prescriptive exercise provides greater long term results for clients," said Rob Naber, founder of Physical Therapy of Los Gatos.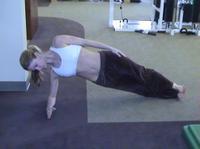 The seminar included an instructional lecture and hands-on practice to assess client's posture, spinal lumbopelvic range of motion and rhythm, flexibility and core strength.  At the conclusion, case studies were presented with "home work" for the attendees.  Answers to the assignment are provided at the end of the presentation.
Physical Therapy of Los Gatos thanks Nancy Chin and Marcie Ryken at Los Gatos Pilates for hosting the seminar.
Download "Physical Assessment for the Pilates Professional" (7.5 MB pdf)